Attention Contractors:
Find out how to increase throughput while reducing overhead and improve bottom line on any blasting project
TCR Blast Abrasive can help optimize the blast operation by:
Complete, thorough review of current blast system configuration. Inefficiencies in equipment and equipment setup can be a significant drag on production rates. Streamlining current equipment configuration alone can dramatically improve productivity.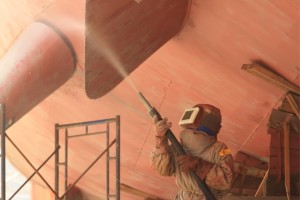 Review of current safety and environmental controls to assist in OSHA / EPA compliance.
Complete a review of current abrasive media selection. Recommend one or more of our High Performance Abrasives in order to lower cost per sq.ft.
Offer to run Blast Test using current Abrasive vs our recommended high performance abrasives to determine the lowest cost per sq.ft.
We will show how to lower dust levels, increase visibility, and reduce waste.
Learn how to create benchmarks for pressure regulation at the three crucial points in the system.
Through side-by-side tests at your job site, using your equipment, with current setup and media, we can recommend changes to your settings, media selection, and equipment configurations in order to reduce blast operations to the lowest cost per square foot attainable.
BOTTOM LINE GOAL:
Demonstrate how to lower the cost per square foot of the blast operation by increasing throughput, lowering consumption rate, decreasing dust and waste.
Call 314-241-5333 today to schedule your consultation!
-Keith Gabbard, BlastAbrasives.com