How many tons of reusable abrasive do you throw away on each project?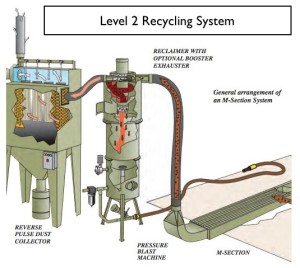 Higher performing abrasives allows owners to utilize recycling methods.
New – We now carry Clemco Blasting Equipment
With modest levels of investment, a blast shop can recycle suitable abrasive media 1 to 5 times.
A larger up front investment will allow a continuous recycling operation. This gives the advantage of THE lowest cost per square foot for any given high performance blast abrasive.
We have broken down recycling solutions into three levels:
Level 1 Basic Recycling – Approximately $1000 to $5000 investment:
Offers 1 to 3 reuses of the spent abrasive
Requires manual spent abrasive pickup (no automation) and conveyance to the hopper or blast pot
Includes screening to remove only large debris
No screening for fines
Will need to check profile height of recycled abrasive blast for approval
Estimated to save 1 ton of high performance abrasive for every 3 to 5 tons purchased
Level 2 Intermediate Recycling  – Approximately $10K to $25K investment:
Offers 2 to 5 reuses of the spent abrasive
Requires Sweep-In system or Bobcat spent abrasive pickup
Includes pneumatic or mechanical conveyance of spent abrasive to hopper or blast pot
Large debris is removed
Fines are removed
Number of reuses are dependent on specific abrasive media and blast impact force
Recycled abrasive can be mixed with virgin abrasive
Profile height of working mix abrasive needs approval
Estimated to save 1 ton of high performance abrasive for every 2 to 4 tons purchased
Level 3 Closed Loop Recycling – Approximately $25K or more investment:
Turns will be dependent upon specific abrasives selected for job
Automated spent abrasive pickup system
Includes pneumatic or mechanical conveyance of spent abrasive to hopper or blast pot
Large debris is removed
Fines are removed
Number of reuses are dependent on specific abrasive media and blast impact force
Recycled abrasive can be mixed with virgin abrasive
Profile height of working mix abrasive needs approval
Estimated to save 1 ton of high performance abrasive for every 1 to 3 tons purchased