Every year, Blast & Paint shop operations are interrupted – or even closed down – as we approach colder, windy and wet conditions.
Why? Because application of conventional Coating Systems at lower temperatures – below 50`F – and high humidity's – above 85% RH – may compromise system performance.  Cool temperatures and high relative humidity may lead to premature failure allowing corrosion to develop earlier than would otherwise be anticipated.
Paints that rely on internal cross-linking (e.g., epoxies and 2 component urethanes) slow down curing and dry-to-touch as temperatures cool – and humidity is elevated.  Functional reactive sites (that typically cross-link Part A component to the Part B component in order to form fully developed protective coatings) are less reactive when encountering cool temps – less than 50`F, and certainly less than 30`F.  And, the curing process can be interrupted by moisture laden air (high relative humidity).
High humidity's – and cooler temps – may cause phase separation (i.e., blushing) in epoxies where the Part A component separates from the B Component – and the surface of the epoxy film becomes "oily" to touch.  This scenario suggests a greatly diminished paint film with incomplete cross-linking – and therefore loss of durability, chemical resistance and other desired properties associated with a more correctly cured paint film.  Incomplete cure always leads to loss of coating system longevity.
Moisture-cured Urethanes (MCU) systems on the other hand (in particular Wasser Coating MCU's) have the benefit of curing at very low temps (as low as 10`F) – and up to 99% RH!  Specifying Wasser MCU's effectively extends the exterior industrial painting season to virtually 12 months – even in northern latitudes.  The N-C-O/OH crosslink functionality of Moisture Cured Urethane is much less sensitive to lower temps compared to conventional systems.  And, given that the curing mechanism is dependent on moisture availability, MCU's curing times will accelerate at higher humidity's.
These properties make the MCU's the system of choice for cooler, damp conditions – allowing for the 12-month Paint & Blast operation to continue with minimal interruption due to weather conditions.  Projects such as bridges, lock & dams, pilings, chemical plants, power plants, water and wastewater treatment plants benefit from year-round MCU coating application properties – without sacrificing any performance properties.
In addition to low-temp & high RH application benefits, MCU's offer other advantages compared to conventional corrosion resistant systems including:
Single Component materials
Improved Color & Gloss Retention
Enhanced flexibility
No outside recoat window (easy touchup – just clean and topcoat!)
Readily sprayed – or brush & rolled
MCU systems available for below grade & immersion service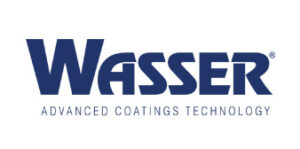 Referencing the attached Wasser Project Brochure, the complex structure of the Priest River Lock & Dam project was perfect application for the Wasser MCU systems.  High humidity's were beneficial to the cure process of the MCU's.  The low-temp capabilities of MCU's allowed for year-round painting to continue.
So, with winter fast approaching please consider the opportunity to decrease downtime – and increase production with the use of Wasser MCU systems.
If a discussion of the MCU systems for your upcoming project is needed, please contact TCR.