OSHA recently enacted the revised Beryllium Standard for airborne exposure to trace amounts of Be (Beryllium).  The original intent was to regulate airborne exposures of Be present in Be production facilities where levels are necessarily quite high.  At the last minute of the OSHA Be revision process included the Blast Abrasives industry in the revised Regulation through the efforts of the previous administration.
Be occurs naturally in our soil in trace amounts.  At the levels being regulated (.1 μg / m3 for the OSHA Action Level), it is entirely possible that dust from a dirt road would be Actionable.
In order to visualize the infinitesimally small amount of Be exposure needed to trigger the OSHA Action Level of.1 μg / m3, consider the following scenario:
OSHA Beryllium Action Level: .1 µg /m3    TWA PEL=
1 pound = 453,592,370 µg
Weight of 1 Dime = 2,270,000 µg
Football Field = 4,181 m2
Crush weight of 1 dime of Beryllium & evenly disburse throughout stacked football fields each 1 meter high:
1 dime weight of Be: 5420 Football Fields high  (or 3.3 miles high) = OSHA Action Level
So, if we take Be at the weight of dime, crush and evenly distribute throughout the airspace of 5,420 football fields stacked each at 1 meter high, we would still be greater than the OSHA Action Level.
For the Abrasive industry as a whole, virtually all abrasives have trace amounts of Be as a minor constituent.  In fact the ABMA (The Abrasive Manufacturing Alliance) had independent testing done to measure Be levels in various widely used abrasives.  See Table below: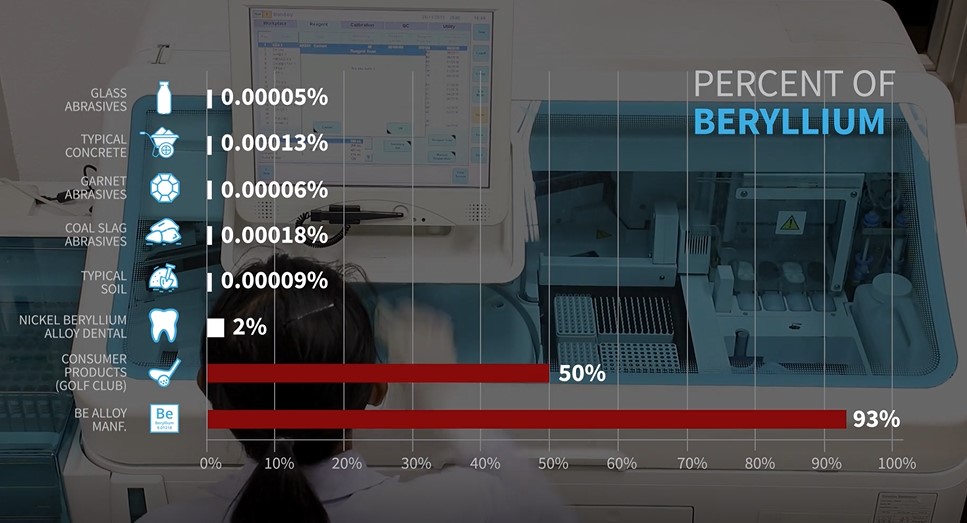 Virtually any abrasive used in an Abrasive Blast environment would require instituting the revised OSHA Beryllium Standard.
For reference, please see the short video from ABMA via the YouTube link below describing Blast Operations and the OSHA Be Standard:
The Abrasive Blast industry counters that current OSHA standards used by Blast Operations for their Blasters will comply with the new standard.  In addition, the revised standard is overly burdensome for the Blast Industry where not a single recorded case of sickness due to Be exposure has ever been recorded.
Personally, I don't believe the revised OSHA Be Standard can remain as is for long as it pertains to the Blast Industry.  In fact, parts of the original standard have already been stripped from the current Be standard (having to do with Medical Record Keeping and Medical testing among others).   Please stay tuned.