"We will keep using it until we get caught".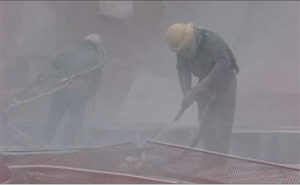 This is a typical response we get when approaching Blast Operations that still utilize silica sand (beach sand, Ottawa flint, river sand, Meramec sand, etc.).  At issue with any of the silica sands chosen as a blast abrasive is the inevitable elevated level of Airborne Silica dust.
Six months ago, OSHA began enforcing the current OSHA Airborne Silica Rule.  The current regulation lowers the allowable Airborne Silica dust exposure to a PEL TWA (Permissible Exposure Limit – Time Weighted 8-hour Average) of 50 micrograms per cubic meter of air – 50 µg / m3.  In fact the Action Level was lowered to 25 µg / m3 – an extremely low number (remember that there are 1,000,000 µg in a gram!).
From a practical standpoint, if a Blast Operation utilizes silica sand as their blast abrasive, and if any visible dust is generated, that Blast Operation is grossly exceeding the OSHA Airborne Silica standard.
According to a May 3rd 2018 article in Paint Square magazine, the OSHA citations for Airborne Silica violations has "ramped up for the 6 months after the rule" has been in place.
Of the 116 violations imposed, "the most common violation (35) was that employers weren't measuring silica levels at all".
And, "about 80 % of the violations were classified as serious" – "the highest silica-related fine was $9,239".
So, if a Blast Operation chooses to utilize silica sand as their Blast Abrasive, the OSHA mandatory provisions for employers with airborne silica exposure include:
Using engineering controls (wet blasting or ventilation) & implementing safe work practices
Provide Respiratory protection when controls are not sufficient to lower PEL's below the Action Level of 25 µg / m3 of silica dust.
Limit access to high-exposure areas by measuring airborne silica levels.
Training workers
Providing medical exams (& keep records) to all workers exposed.
As an alternative to waiting until "caught, our suggestion is to switch to a low-silica (much less the than 1%) abrasive.  In addition, the lowest cost per square foot abrasive has proven to be a High-Performance Abrasive which will:
Demonstrate very low Dust Levels
Have significantly faster Production Rates compared to silica sand (as much as 25% faster)
Lower Consumption Rates (purchase as much as 50% less abrasive!).
TCR Blast Abrasives can assist in compliance with OSHA regulations.  Further, we welcome the opportunity to assist improving profitability for any Blast Shop operation.  Please contact us to discuss your particular needs.